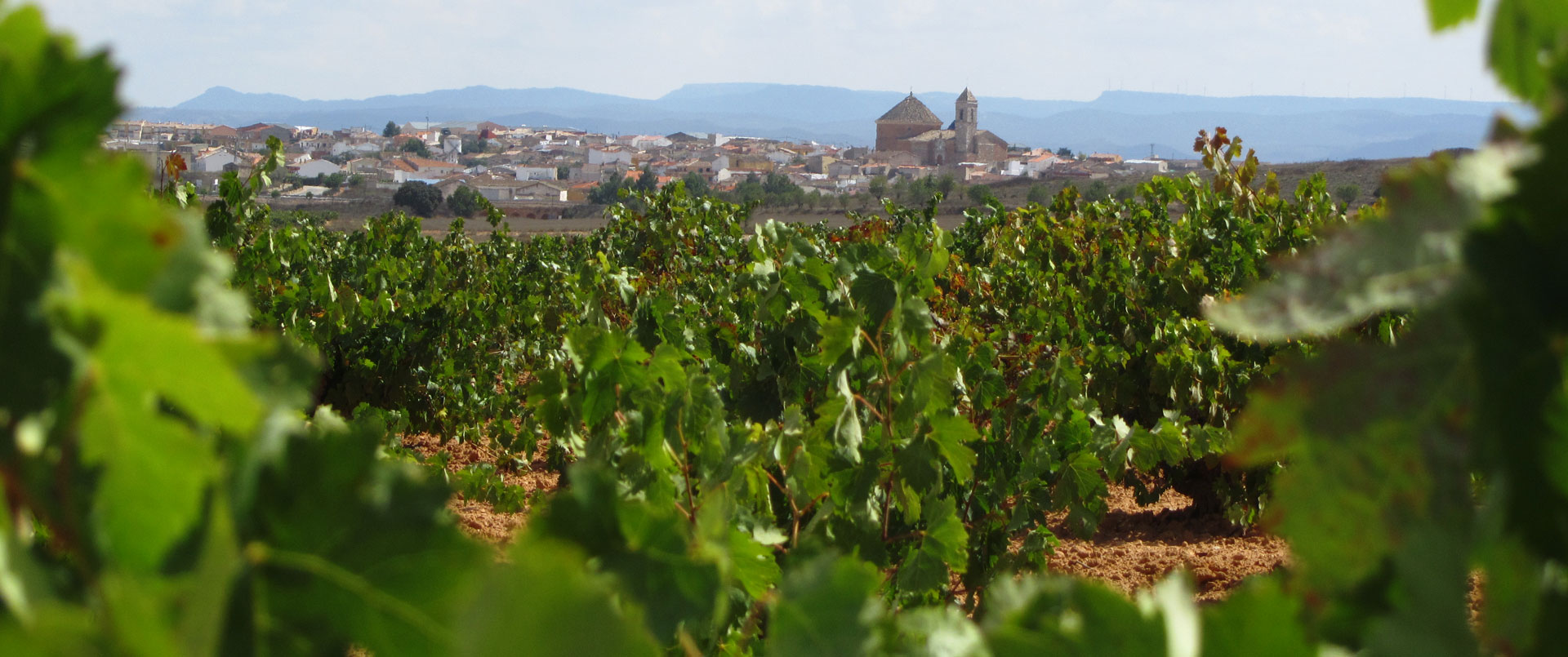 ---
Our Land...
Overlooking the Mediterranean!
---
Distinct from other growing regions in the surrounding area.
From a viticultural perspective, Manchuela is closely linked to its neighboring region, Utiel-Requena.
Sharing the Cabriel river, the native Bobal grape variety, plus similar soil compositions, climatology and winemaking tradition.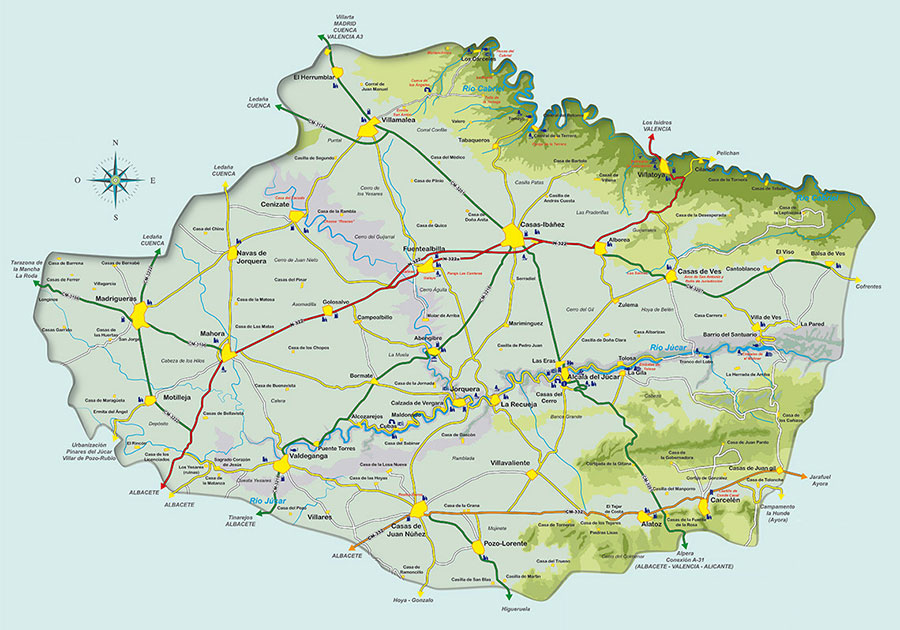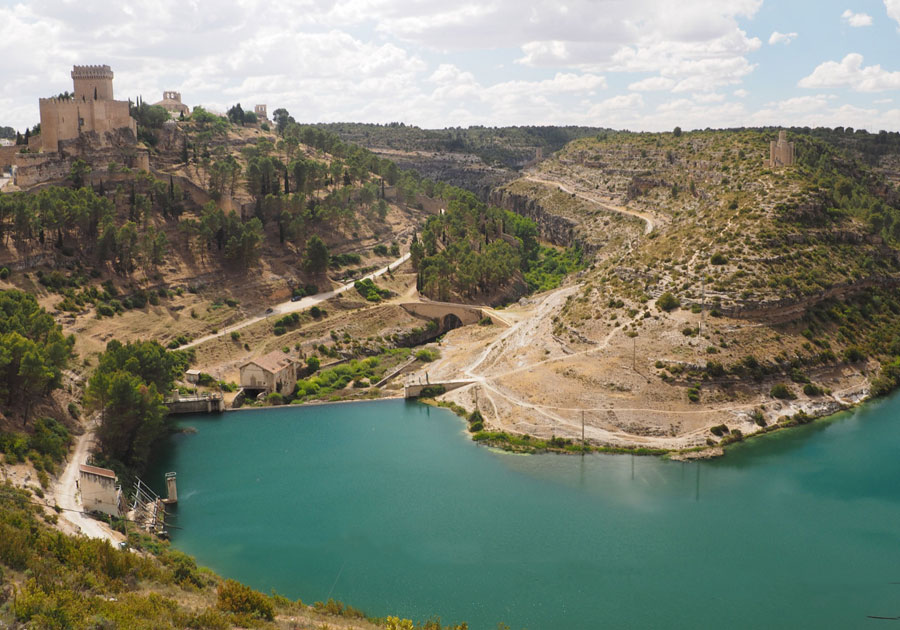 We work in the area of the Manchuela near the towns of (Villatoya, Alborea and Serradiel) situated in a 20-kilometer-wide zone between the Júcar and Cabriel rivers, which provides us a multitude of soil types, topographical orientations and altitudes.
We find ourselves in a terrain filled with small hills, where the vineyards mix with pine trees and scrubland, and where the land is always layered over a subsoil of limestone and clay.
We try to uncover the optimum expression of every individual zone by means of the grape and fruit character offered to us by each soil, each plot, each orientation, and each grower ... we work with about 10 hectares of vineyard. Half of this grape sourcing comes from our own vineyard blocks, and the rest is from parcels owned by winegrowers in nearby towns: (Juan Ángel, Sergio, Pepe, Antonio, Juanche…). We never wait until August to make our grape purchase decisions; instead our philosophy is to work side by side all year around with our small network of growers, as if their vineyards belong to us. This type of intensive collaboration helps ensure we receive exactly the grapes we need for the wines we seek to produce.
Parcels and vines...the whole picture!
Villatoya
Home of Tardana, where the white grapes grow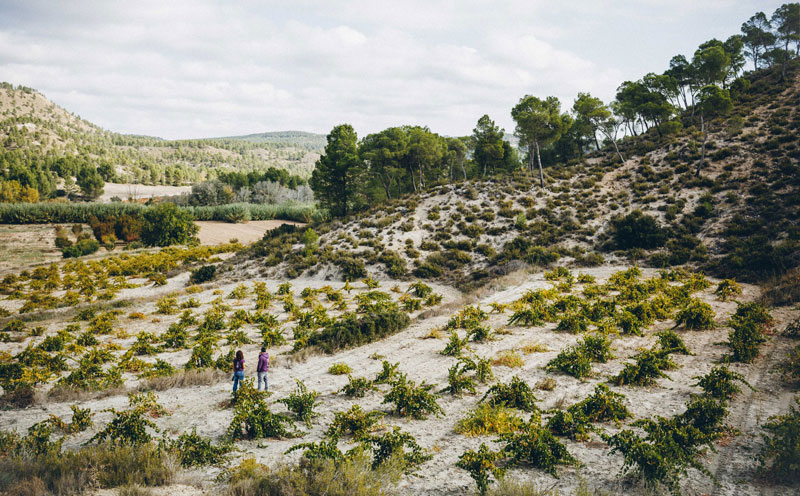 Located next to the river Cabriel, at an altitude of 400 meter with a soil high in calcareous content.
The Tardana grape needs a special microclimate to complete its atypical vintage cycle. In the area ofAlborea, at 700 meters it fails to complete its ripening, maintaining 9-10 degrees of alcohol and lacking aromatic development ... So we sought it out in an area where it was most widespread, in Villatoya.
Villatoya is 16 km from the winery, more or less in a straight line with the banks of the Cabriel river: more specifically, in the final meanderings of the Parque Natural de Las Hoces del Cabriel, sandwiched between the depression formed by the river's path ... This special zone is where we found the microclimate that allows Tardana to express its fullest potential..
---
Read more
Read more
Our vineyards are less than 500 meters from the river, in soils sloping upward to the mountain, surrounded by pine trees, rosemary and thyme ... and as always on dry-farmed land with old vines cultivated in bush vines. We do not know the age of this vineyard, but the previous owner (an elderly man and his wife, both grandparents ...) told us it was his wedding gift.
These parcels have a chalky white calcareous soil, which indicates the high active limestone content that contributes the hint of saltiness a great wine likes so well, in addition to a particular freshness and floral character from these soils.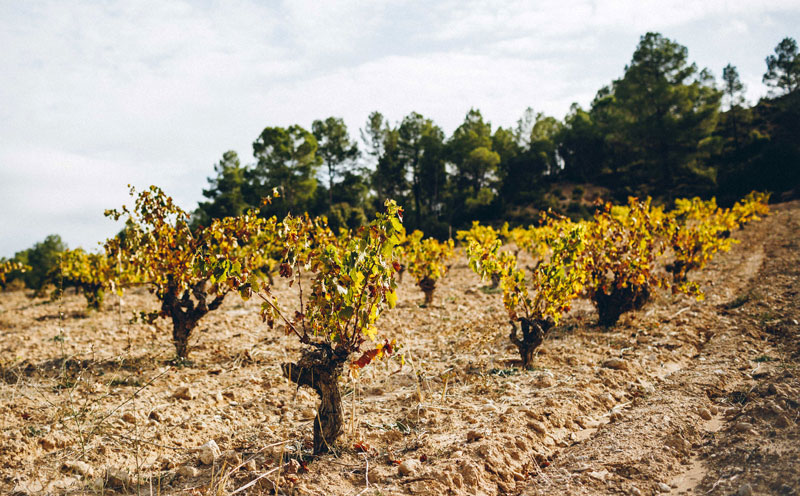 A very specific area is Camino Balsillas, home of Terra, our "orange wine."
These plots are barely 2 km from the parcels ofSol, but they have totally opposite characteristics:
1.- The orientation is different and the site faces North, which gives us more freshness and allows the grapes to ripen longer, bringing more maturity to the fruit and mature tannins when fermenting with the skins.
Read more
Read more
2.-The parcels are on slopes, which gives us a greater exposure to the sun for more complete maturation, and mitigates the dangers from spring frosts. Along this river bank the occurence of frost is always a concern for us at our terraced parcel, Sol, a little lower down the hill.
3.- The soil is not as white, chalky or saline, ... instead it has more clay, although still maintaining an important percentage of limestone that is not quite as pronounced as in the plots of Sol, which gives us that extra touch of structure that allows the wine to develop in the bottle over time.
These are old vineyards of Tardana grapes, about 70 years old, planted in bush vines and dry-farmed in a broad framework of plantings (1,100 vines / Ha). One of these vineyards belongs to José and had been abandoned for years. We are managing to revive it thanks to the development of the Terra wine.The other vineyard was cultivated by Victoria until recently, which we moved to a sharecropping arrangement to avoid starting over completely. The yields are minuscule—only 0.5-1.5 kg per-vine at best—but these vineyards give us great joy because the concentrated grapes we get here are perfect for fermenting on the skin to create our orange wine.
Serradiel
Home of the most intense Bobal. At about 800 meters altitude on clay-calcareous soil.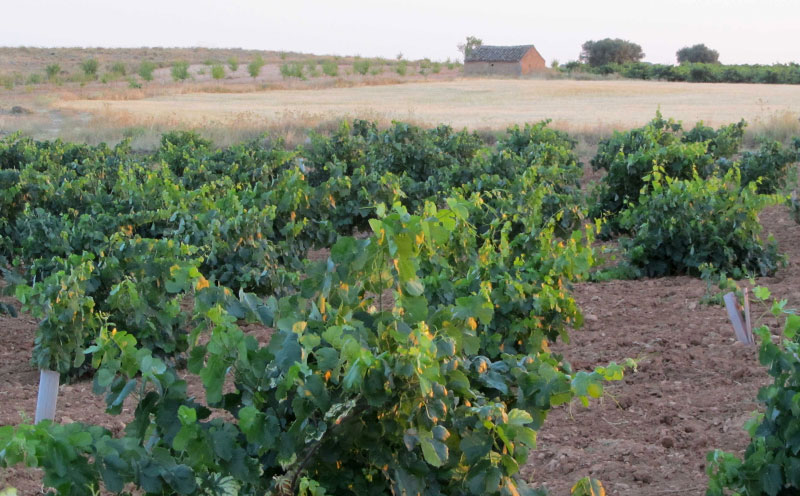 Five kilometers from the winery we reach the village of Serradiel, where Sergio, a friend of Ivan's high school, has insisted on maintaining and recovering the vineyards of his great-grandfather, who had a winery in the village.
Calcareous clay soils, not as rich in iron as at Alborea, are less deep and more white-colored here, with a higher limestone content, which is why it tends to give us more concentrated fruit.
---
Read more
Read more
We work with old Bobal vines here, about 30-40 years old, grafted on Paulsen rootstock (American), something unusual for the area because it is less productive than the more extensively used 110 R, adding extra growth of the wood instead of more fruit weight. This attribute creates a perfect balance between the vegetation and the fruit used in making our reserve wine: Maximas.
Si hay un componente de nuestro suelo que resalta es la arcilla, y por esta razón, nació Tinaja . Es la máxima expresión de estos suelos: rojos, arcillosos y con un alto contenido en hierro.
Hazilla Norte,...Home of Rosé.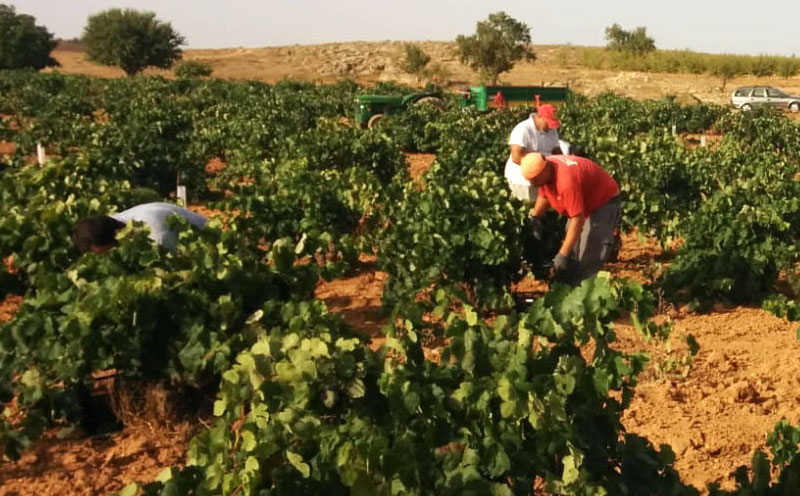 Also in Serradiel we find the Hazilla Norte vineyard plot, home of Rosé, our vino rosado made for longer bottle aging. Rosé always comes from a specific, distinctive vineyard that gives us the characteristics we like in making our rose wine.
The plot is located in the village of Serradiel, 5 km to the Júcar river from Casas Ibáñez, at the foot of a small hill, at an altitude of 700 meters. The vines grow on a clay-calcareous soil. That clay gives us the freshness and fruitiness that we look for in Rosé, but thanks also to the clay, we obtain the right point of tannin necessary for aging and storage.
Read more
Read more
This vineyard is planted to old Bobal, about 40-years-old, planted bush vine and dry-farmed according to the traditional practice, with low vine density at 1,200 vines / Ha.
The vines have a good vigor that helps shade the grapes during the hottest part of summer and maintain freshness, while also maintaining a production equilibrium that lets us work with grapes that have an excellent fruit intensity and a good balance of alcohol-to--acidity. The yields off this parcel come in at around 4,000 kg / ha..
This plot is worked by our beloved viticulturist Sergio Valiente, Ivan's partner at the high school. Sergio is reviving the vineyards of his great-grandfather, and used to be winemaker for the village of Serradiel. He works according to the guidelines we set for him with an excitement and passion similar to ours, and with a father's pride in the grapes are in every bottle of Rosé.
Note:: we think that Sergio and Lola (Ivan's mother) are our best customers of Rosé from the winery ;-)
---
Alborea
Home of the coolest Bobal. At about 800 m altitude and ferric soil-calcareous clay.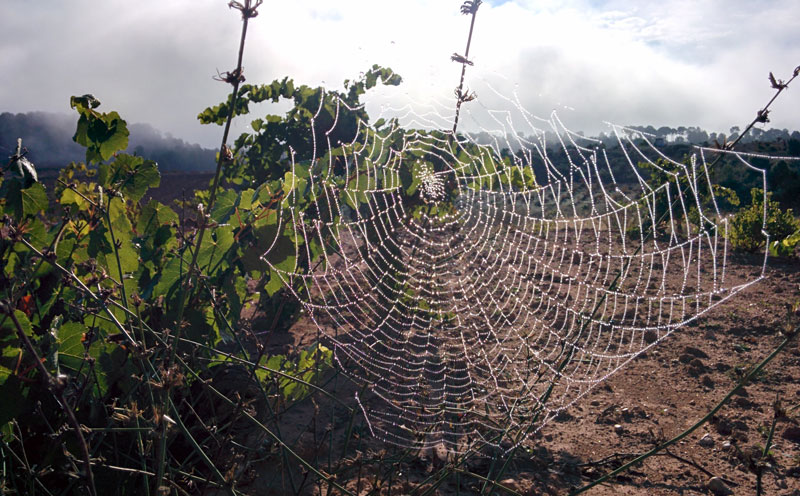 Alborea, the town of Iván, and how many times he has travelled through his vineyards working as a day laborer to earn some 'perilllas' (pocket change) while he was studying ...! Who could have told him that years later he would end up traveling these same roads looking for vineyards from which to make his wines.
We love Alborea, especially the part of ​​the town that looks towards the Cabriel, on the other side of the road. It is an area of ​​small hills facing in many directions, of small pine groves protected for birds, of many roads and of old Bobal vines.
---
Read more
Read more
The people of the town and the experts of the area say that Alborea's Bobal wines have always been the best around here ... and we could not agree more.
Ferrous soils (red), deep and clayey, of the type that you dig and dig and you never find the base rock, where all the winter water is stored. During the summer months this characteristic allows the old vines to explore with their roots through the deep confines of clay, in search of that water so precious that will allow us to complete the cycle and have fresh grapes, with a moderate degree, ripeness and fruit, lots of fruit ... ideal forGot.
Mother Plot, Cerro de los Moñigos... The Beginning.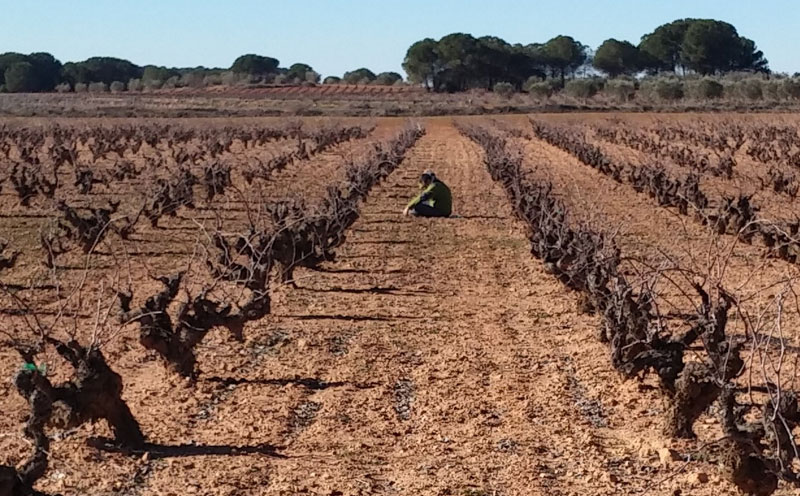 What can we say about this parcel of vines ... It was the genesis of everything, the first vineyard ... As we have mentioned on another occasion, we are the first generation of viticulturalists in our family and do not come from several generations of winemakers.
Ivan's grandfather was a day laborer, and worked for the rich man of the town to earn cash. And when there was no work to be had, he was dedicated to working his land: a little grain, a small vineyard, some olive trees, a small garden ... all for home consumption.
Read more
Read more
So this parcel is our only inheritance, and what a good inheritance it is! It's located in Alborea on the road to La Huerta de Villena, before one starts descending toward the river Cabriel, in the spot called Cerro de Los Moñigos, about 6 km outside the town. This vineyard is all about the prototypical soils of the area, clayey, red, deep ... and vines trained in bush, as they've always been, dry-farmed and very old (80 years or more).
A perfect place to elaborate what was to be our first Maximas wine and then later our first natural wine as well: Infintum, now called Soy. Because this parcel — the one we have spent the most years working on — is where the energy flows together between all of us, the soil, the grapes and the cosmos, to give us a pure wine. Through the genesis of this wine we began to integrate astrology, Bach flowers... all the visible and invisible forces of life that coexist together in perfect harmony..
Through Ivan's father, we got in touch with Pepe. A lifelong vine grower who, like many others, can not continue to take care of his fields alone because he has no relief from family, and because of his advanced age.
In this area, there are small plots planted with a multitude of mixed native varieties, which are increasingly difficult to find. These plots are commonly called blending plots. The function of these types of plots was to ensure production for home consumption, since each variety has a different sensitivity to pests, diseases and frosts
Read more
Read more
The reason why they are being uprooted and are in danger of extinction, is that the current economic system, forces the farmer to necessarily produce many kilos of fruit for his vineyard to even get close to actual profitability. But with old vines the yields in terms of kilos per plant are not sufficient to cover costs. After also taking into account that the global marketplace is moving toward monovarietal wines, these plots are simply not sustainable anymore.
And yet they are plots of very old vineyards, and treasured reserve for the genetic varietal heritage of our region. For this reason, and in line with the mission of our winery, we want to do everything possible that allows them to continue to exist. At first we were able to rescue the Pintailla variety, from which our wine of Atlantic character was born, and nowadays our "crowdfunding" wine ¿y tú de quién eres?is sourced from these vineyard parcels.